Uber has officially launched its JUMP bikes in Rotterdam. Besides ordering a taxi ride or a meal, Rotterdammers are now the first in the Netherlands to be able to order an electric bicycle via the Uber app.
Important update: JUMP electric bicycles are no longer part of the UBER app. They are now part of Lime. Download the Lime app to rent these bicycles. The rest of this article is outdated. 


Wednesday, 24 October 2019, marks the launch of Uber's electric bicycle sharing service in Rotterdam. The red bikes and scooters with the white JUMP logo are now available for rent via the Uber app. A total of 500 electric bikes have been spread out in the centre of Rotterdam and the immediate vicinity such as Kralingen, Kop van Zuid and the Willemsbrug area.

To hop on a JUMP, all you need is the Uber app. Some ridesharing services require people to submit quite a lot of information before being approved. The JUMP bikes are accessible to anyone with the Uber app. So it doesn't matter if you're on vacation or living here temporarily.


Personal experience with JUMP
I actually got to try the bicycle at the launch event on October 23rd. I rode from Kop van Zuid, over the Erasmus bridge and back. I admit it was quite effortless. I have never ridden across the bridge in an actual bike, but it's something everybody complains about. It's a long stretch and when the wind is blowing in your face, it's "supposedly" very difficult to get across without dying inside.

However, with the JUMP, I was going so fast, I felt like I was riding a scooter. Well, until two actual scooters passed me by, that is. On flat stretches, pedalling is a breeze. Push the pedal down just once and you cover an insane distance. Best of all, unlike a scooter, you feel as though you're actually doing something. It's not a passive experience and given it's a bicycle, you also have a lot more manoeuvrability. Lastly, it's built to last; it feels very sturdy and safe.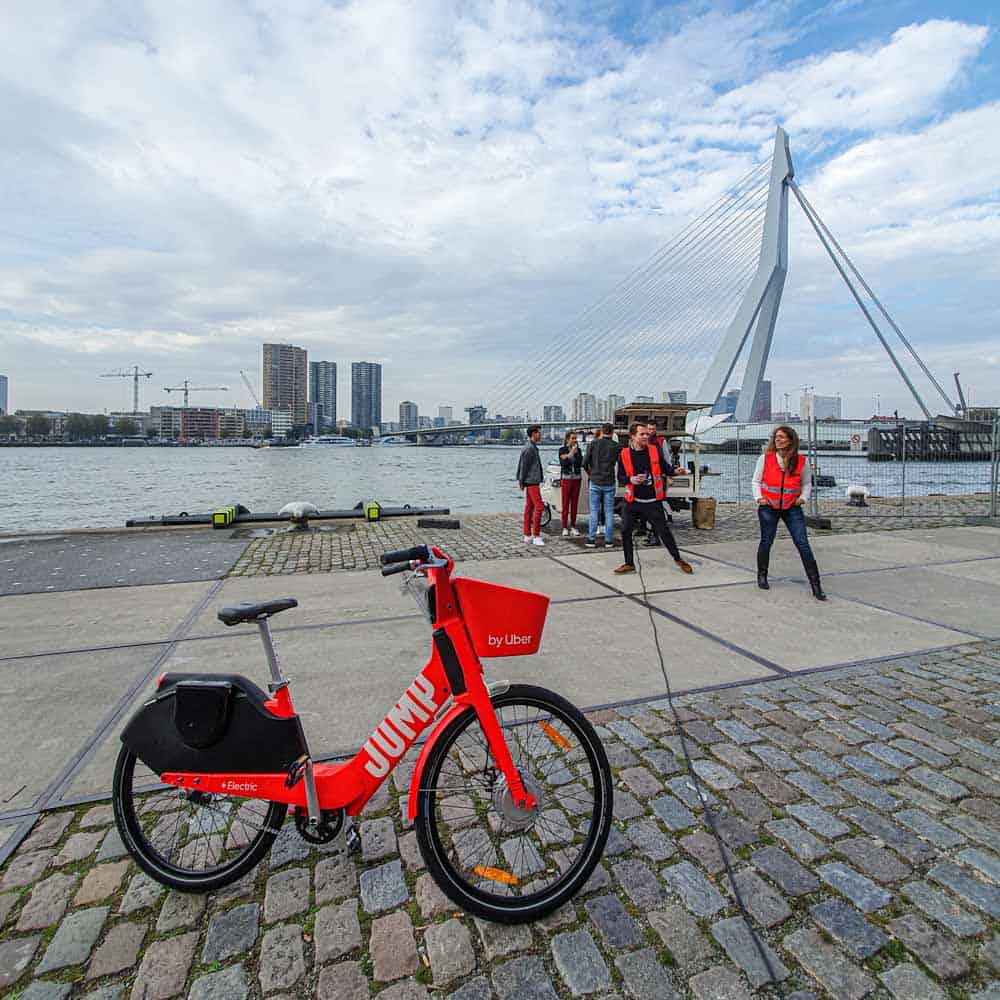 JUMP electric bicycles are now available in Rotterdam


About JUMP bicycles
JUMP electric bikes are pedal-assist. This means the harder you pedal, the more power you generate and thus the quicker you go. The JUMP bicycle has a top speed of 25km/h, which is practically the same as a Felyx scooter (I achieved 29 km/h going downhill on a Felyx). The bicycles have three speeds, but who would ever want to go slow? And feel more resistance? Yikes!
The seat is adjustable. There's also a bicycle basket and a
very useful
phone holder; after all, in Rotterdam, riding your bike while
handling your phone is illegal
and will result in a fine.
Moreover, the bicycles are
available 24/7
and a ride costs
€0.20/minute
after a
€1,- fee
for unlocking.
How JUMP works
To use a JUMP bike, you'll need to install the Uber app and follow these steps: 

• Click on the bike icon at the bottom of your screen on the homepage of the Uber app and select 'bike'.
• You will immediately see the available JUMP bikes in your area, after which you can select one and make a reservation.




• Find your bike, you'll be able to identify it by the number on the rear fender.




• Scan the QR code, detach the lock.


• Finished cycling? Park your bike wherever you want within the JUMP zone and take into account the usual parking rules for bikes in Rotterdam.


Will Uber's JUMP stick the landing Rotterdam?
According to Uber, JUMP's arrival in Rotterdam is part of their mission to offer various sustainable and affordable transport options to users of the app, for both short and long distances within the city.

"Our mission with JUMP is to make transport in the city centre of Rotterdam even easier and thus reduce car ownership and traffic congestion," says Nikolaas Van de Loock, General Manager at JUMP Benelux. "Our aim is to improve the quality of life in the city and contribute to efficient and environmentally friendly transport."

With that in mind, we asked van de Loock how JUMP will make sure the bicycles don't become a nuisance. After all, Rotterdam has seen its share of failed 'ridesharing bicycle platforms' in the past. Van de Loock is positive:

"We have a responsibility towards the city of Rotterdam and its people, to make sure that it goes well. For me, the responsibility is more around parking and making sure the bikes aren't littering the streets everywhere. As with any new product, it's about education. Yes, in the beginning, some people will not attach the bike or leave it on the sidewalks, but it's up to us to educate them and say please, next time attach it to something, this is how you can do it, here are good places to store your bike for example."


JUMP Benelux General Manager Nikolaas van de Loock
"But, on top of that, we also have our own team that goes along the streets and that maintains the bikes. That means swapping the batteries and checking if the bike is in good shape. They also keep an eye on the road. If a bike is wrongly parked, they park it correctly and attach it. So it's really important for us that we do this the right way."

JUMP is available worldwide in 31 cities. In Europe, you'll find JUMP electric bicycles in major cities like Lisbon, Paris, Madrid, Malaga, Brussels, London, Berlin, Rome and Munich.


The Uber app is available in Google Play and in the Apple App Store.